North Korea - A Glance at the Worker's Paradise!
Tom frequently travels to the north of China to Liaoning Province and the commercial region of the DPRK. Specifically, we are active in the Dandong region which is the main city bordering on North Korea. This allows us a close up view and quick jaunts into the Worker's paradise. Our friends at the Liaoning Import Export Corporation conduct around 90 percent of their business with the North, and trade food, for steel. They operate duty free stores and restaurants in the capital city and even sell automobiles to VIP communist leaders. Here are just a few images from the frontier. Give Tom a call if you want to learn more about what is really going on in North Korea. thomaspayne@msn.com (Although we are not allowed to do anything, there, we certainly know people who are!) Until last week! The doors are now open, and we will be presenting information on doing business with the Hermit Kingdom!

DPRK Practical Questions and Answers. (Or scroll down beyond the gallery)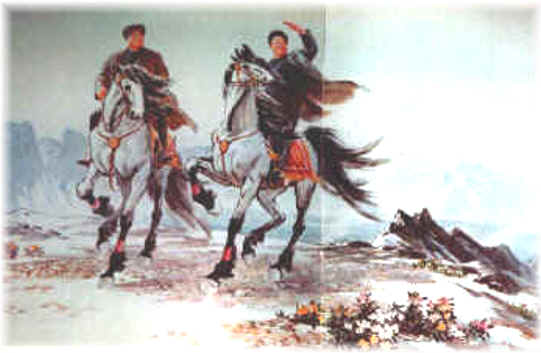 Leader & Leader Junior! My host panicked when I spilled a beer on this propaganda place mat! Here Great leader and Benevolent Leader share the spotlight in a mural commemorating the 80th birthday of Kim Il Sung. Tom toured the border region of the People's republic of Korea (DPRK) and the neighboring city of Dandong where he has business relations with the Liaoning Province Import Export Corporation.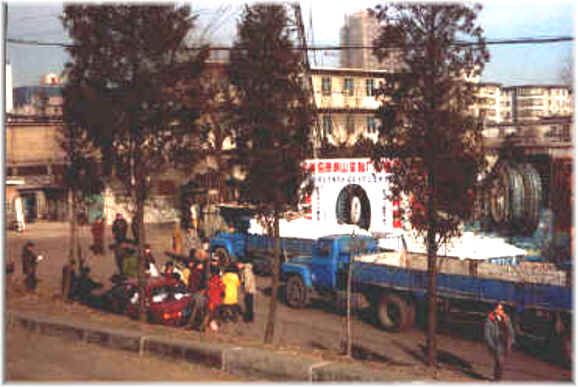 Trading with the DPRK -North Korean businessmen cross the border for 1 hour visits to the border city of Dandong. They load up with food supplies, head for the Korean stores on the square near the Yalu River Bridge and buy cigarettes and booze and head back. Many are Chinese who were born on the wrong side of the river and were trapped after the war. Now, they are the merchant class of this nation and someday will make it rich. Few return to China as they are getting rich!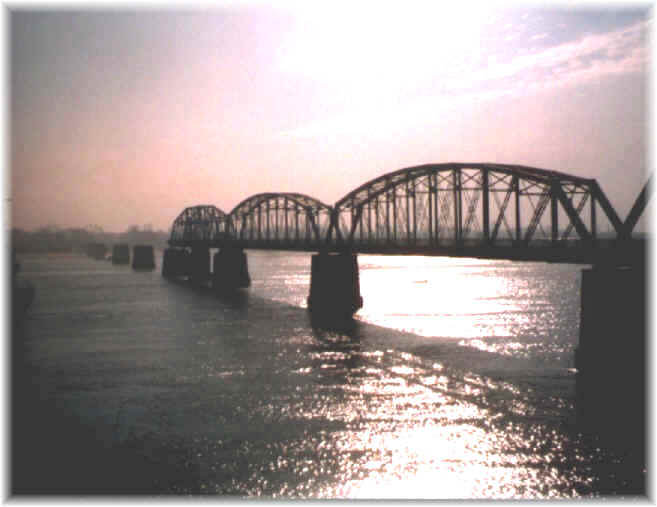 45 Years later! 45 Years later! What's wrong with this picture? The Yalu River Bridge at dawn which connects Dandong with North Korea. Note the long last step! The Korean end of the bridge was bombed heavily during the war. I was shown a bridge further to the North which recently collapsed after too much metal was taken by scavengers. The Korean War museum describes the conflict as a patriotic last stand by the North Koreans against the Yankee Imperialists. The museum includes an entire section on North Korean War Aces, and also deserting prisoners of war which were said to opt for the good life in the worker's paradise. Today traffic runs one way on the remaining bridge over the Yellow. It also includes a train track down the middle so it is a tight fit! Tom was kindly deported from North Korea by soldiers who didn't like the way he looked!

Questions and answers from a non governmental or bureaucratic Source. 15 years ago, TJP started work in East Germany, then Romania and down the list of the forbidden countries. What I learned is that if you want to do business you need to throw out the books on international marketing, don't deal with acronym companies, and forget about big deals! Here are some tips for doing business in the DPRK:
What is the business climate like? Right now, most business in DPRK is government controlled in state trading companies, businesses or by the Armed Forces who are a substantial business interest involved in just about everything. At first glance you will believe that all business is locked up between these large monopolies and a select group of "outside companies" who are allowed to deal in the DPRK. You can imagine that these are mainly Chinese companies like my friends in Dandong, Japanese companies and a select group of Scandinavian and Eastern and a few Western European companies. these companies have bought their way into the system, give great concessions and are all banking on things getting better.

Do the North Koreans Pay their Bills? Like the other communist partner companies, they learned a lot of bad habits. In short, No. Everyone who deals with North Korea is owed a tremendous amount of money. You must have a person in country to collect and grease the skids. North Koreans change the terms of contracts, ignore agreements. They feel you are privileged to deal in their country and take what they give.

Are there small business opportunities? One of the concessions given to the outside companies is that they have been able to develop projects which can bring in revenue. For example, the Dandong group runs hotels, restaurants, snack bars and even a bowling alley with karaoke of course. If you travel to the larger cities you will stay in a foreign hotel or eat at their restaurant and pay exorbitant high prices! That is the system! One nice concession and opportunity is in the hard currency or duty free stores at hotels. Foreign companies are bringing in luxury goods such as cosmetics, liquor and other items including American goods for use in the stores. Although they are intended for visitors with cash, I am certain that these goods are trickling into the population, and will do more and more in the future.

Are there private businesses operating in the DPRK? You must look very close. I have heard of small fruit sellers and a lot of intra village trade which is overlooked. But, at this time the high profile operations are all state owned or state controlled ventures. But, I do know of a number of small traders operating on the border regions, who are mainly Chinese. These guys were trapped on the wrong side of the war and stayed. They have the ability to cross the border in trucks and pick up goods to bring to the other side. I believe they work in tandem with relatives on the Chinese side. Although this is small business, this is business. I believe that real business will develop with private business in the DPRK and this is the first spark of life! (I would not waste time dealing with the state)

What about all of the aid organizations etc...I wonder about these groups. I read about a big project, to give wheat and then I read that they were delivering a few truck loads. At the same time, trainloads of grains and seeds are at the Chinese border moving across. They need everything now, but there must be a reason why they will allow and perpetuate. For South Korean companies to send rice this is a nice gesture, but a defeat for the North Koreans. I have always felt that the country can be fed with legitimate imports of goods from neighboring countries in significant and meaningful amounts. Also, there are enough wheat seed supplies and agricultural specialists in China who could come in and kick start the economy. If anything these aid organizations can shame the government into doing something. But, I also think this is just a band aid.

What can a foreigner source in the DPRK? Chinese companies buy cement, sand and gravel, steel, silk and chemicals heavy industrial items. For consumer goods, the North Koreans have very good pickled cabbage and traditional Korean foods, and liquors. I have also heard they have a great beer.

What do the North Koreans Need? On a large scale, they need just about everything. But, on a small scale, there are lots of micro opportunities. for example, over the past few decades, they have imported used Japanese and even American automobiles from China. They love Cadillac's. They are in great need of auto parts, and especially windshields for certain models. They want consumer goods in small packs like raisins, almonds, peanuts, cookies, crackers and chocolates. All of the items which are sold in the hotel shops are in or will be in demand in the future, especially when and if the political system changes.

Will the political climate change? The school students in North Korea are taught a number of songs, dances, and hand gestures, just like our students in church schools in the USA. The North Korean students learn two salutes: defend with the raised fist, and defend with the cocked back fist. They still have the belief that they are the last place on earth which has not sold out to capitalism. They watch television shows such as "Cops" and other American parades of murders and crime and they are reinforced that they are lucky to be in North Korea. I know dozens of foreigners who spend weeks out of each month in North Korea, and always ask the same question: Will there be peace, will there be a status quo or will there be an attack. Immediately, enough they'll respond: Attack without a hesitation! I believe that things will settle down with each day, as long as they don't do something very stupid. and, they do have a history of doing stupid things!

How does a westerner survive there? You go with the flow. Bring some of you r own food, pack your sense of humor and keep your jokes to your self. Do not joke about Great Leader or Dear Leader no matter how tempting it may get. Do not spill a beer on a great leader place mat like I did! Do a lot of listening and do not talk politics, or religion. I have found a safe topic which everyone is interested and admirable: Professional Wrestling. Evidently when the Dear leader is not hitting holes in one on the golf course or writing his voluminous books of wisdom, he keeping abreast of the WWF and WCW. I heard that they even had a world congress on professional wrestling at one time. It is a nice way to break the ice to ask about their feelings for the Undertaker, or Jake the Snake. But, really, you must be very careful to stay out of trouble. Know that you are always being watched or followed. Anyone approaching you to talk is either crazy or else a secret police agent. Your phone and hotel room will be monitored. Your bags will be searched going in and out of the country. A few simple precautions: Keep receipts handy for everything you buy (otherwise you are open to be accused of stealing or black market money transactions) Go along with he stupid conversions. Always go along with a guide for now who you can trust. Otherwise you can be led to the wrong place. Always check your belongings before you leave to ensure that nothing is planted for inspection at the airport!

Can you access the internet from there? A: Not officially, but some do dial over to the China net in Dandong and Dalian and Shenyang.

DPRK Links:

Travel: No recommendations from me!

National Directorate of Tourism, Central District, Pyongyang, DPR Korea, Tel: (2) 381 7201. Fax: (2) 381 7607.
Kumgangsan International Tourist Company, Central District, Pyongyang, DPR Korea, Tel: (2) 31562 or 35431. Fax: (2) 381 2100.
BESTravel Ltd, 108 Berwick Avenue, Heaton Mersey, Stockport, Cheshire SK4 3AT, Tel: (0161) 975 0843. Fax: (0161) 432 0148. E-mail: BESTravel@breathemail.net, Web site: http://www.BESTravel.co.uk
General Delegation of the DPRK, 47 rue Chaveau, 92200 Neuilly-sur-Seine, France, Tel: (1) 47 47 53 85. Fax: (1) 47 47 19 61.
Country dialing code: 850.
Contact: thomaspayne@msn.com